Stress, Anxiety and Mental well-being among Nursing students: A Descriptive-Correlational study
Kathyrine Calong Calong

College of Nursing, San Beda University, Manila, Philippines

Judalyn Comendador

College of Nursing, San Beda University, Manila, Philippines
Keywords:
anxiety, COVID-19, stress, mental well-being
Abstract
Background: The COVID-19 pandemic has affected everyone's health and well-being and has resulted in the shift of conventional face-to-face classes to online instruction. This has had major negative effects on students who are facing the difficulty of online classes in terms of their physical and mental health. 
Objectives: The study determined the relationship between stress and anxiety on emotional social and psychological well-being among nursing students. 
Methods: The study utilized descriptive cross-sectional research and a purposive sample of 210 nursing students was included in the study. The data were collected from November 2020 to December 2020. The Perceived Stress Scale (PSS-10), General Anxiety Disorders Scale (GAD-7), and Mental Health Continuum-Short Form (MHC-SF) (which measures emotional, psychological, and social well-being) were used to collect the necessary data. Frequency, percentage, mean, standard deviation, and Pearson's r correlation were utilized to analyze the gathered data. 
Results: The participants were shown to have a moderate level of stress (M=19.53; SD=±3.29), moderate level of anxiety (M=14.43; SD=±7.62), and moderate mental health. Further, stress was shown to have a significant negative correlation with emotional well-being (r= -0.218; p=0.000), social well-being (r= -0.175; p=0.000), psychological well-being (r= -0.219; 0.000), and the over-all mental well-being (r= -0.222, p=0.000). Also, it was noted that anxiety has a significant negative relationship with emotional well-being (r= -0.418; p=0.000), social well-being (r= -0.280; p=0.000), psychological well-being (r= -0.331; p=0.000) and over-all mental well-being (r= -0.362; p=0.000). 
Conclusion: In light of mental health concerns among nursing students, faculty and administrators have a professional responsibility to address foreseeable psychological stressors and promote the mental well-being of students in their institution. The protection and development of mental well-being will allow students to maintain academic excellence and facilitate future success. 
Downloads
Download data is not yet available.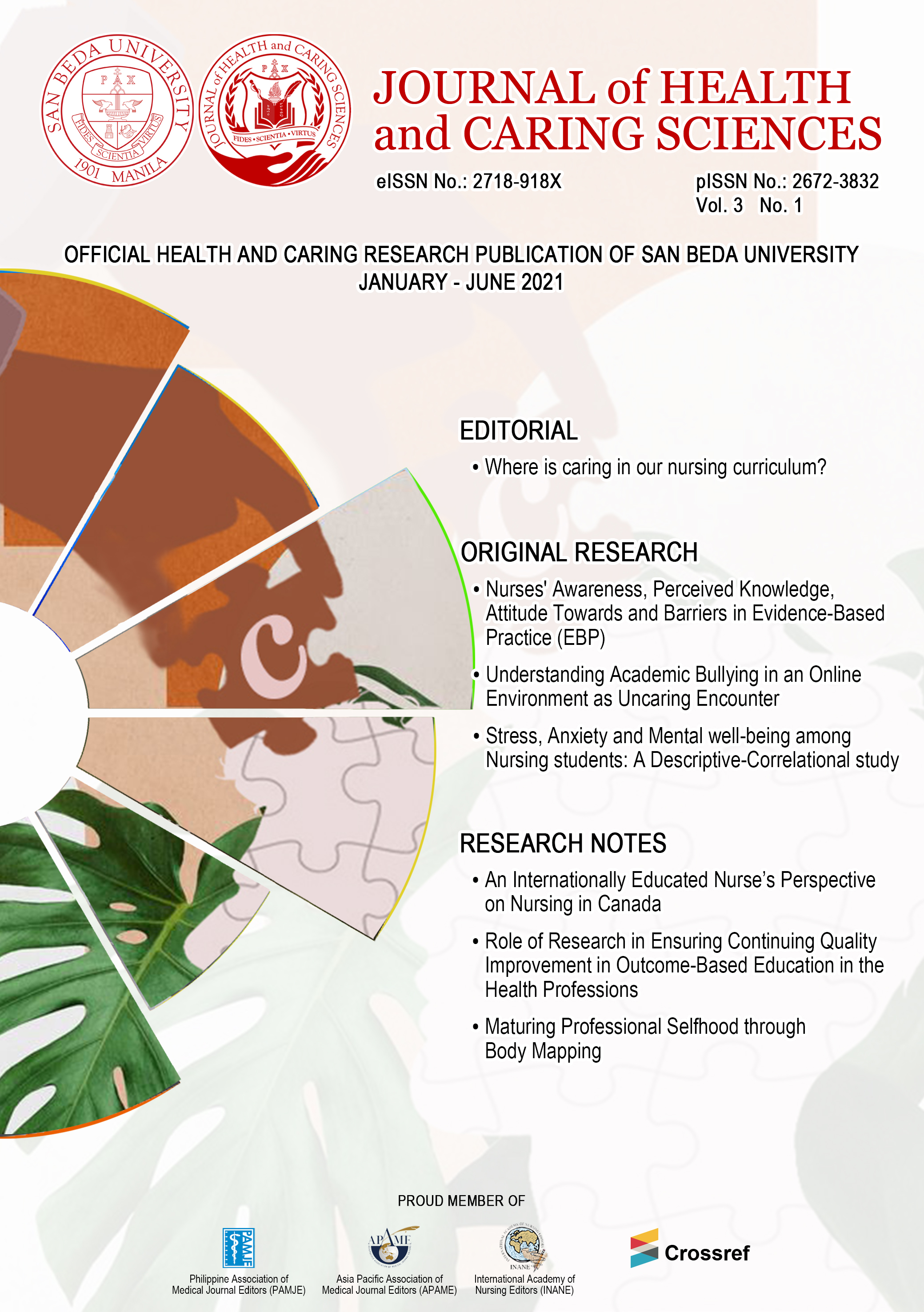 How to Cite
Calong Calong, K., & Comendador, J. (2021). Stress, Anxiety and Mental well-being among Nursing students: A Descriptive-Correlational study. Journal of Health and Caring Sciences, 3(1), 33-42. https://doi.org/10.37719/jhcs.2021.v3i1.oa003
Section
ORIGINAL ARTICLE(S)
Copyright (c) 2021 Journal of Health and Caring Sciences
This work is licensed under a Creative Commons Attribution-NonCommercial 4.0 International License.