Role of Research in Ensuring Continuing Quality Improvement in Outcome-Based Education in the Health Professions
Jesus Sarol, Jr.

Interdisciplinary Health Sciences Institute, University of Illinois at Urbana-Champaign, Illinois, USA
Keywords:
outcome-based education, quality assurance, student research, teacher research, curriculum development, health professions education
Abstract
The Philippine Commission on Higher Education (CHED), through Memorandum Order 46 Series 2012, unmistakably espouses outcome-based education (OBE) as the main approach to higher education learning. To attain its goal of developing a critical mass of high-quality graduates, research that will drive technological innovation, economic growth and global competitiveness and provide directions to the country's policies and strategies must be supported. Research plays at least two roles in ensuring quality in outcome-based education – in curriculum development and in the implementation of OBE. Greater student involvement in research to hone their skills in research will help them become independent producers of knowledge and capable lifelong learners. Teachers enrich the content of their courses with research experience and findings, both from reviewing the literature and from the conduct of actual experiments and studies. To overcome problems with OBE implementation, research can be utilized as a problem-solving activity. Researches can provide situational analysis on the level of quality of education and monitor its trends, seek causal factors that account for variations in the attainment of quality standards, test for educational interventions and identify good/best practices in teaching and learning. This paper provides suggestions for designs for the application of research for these purposes.
Downloads
Download data is not yet available.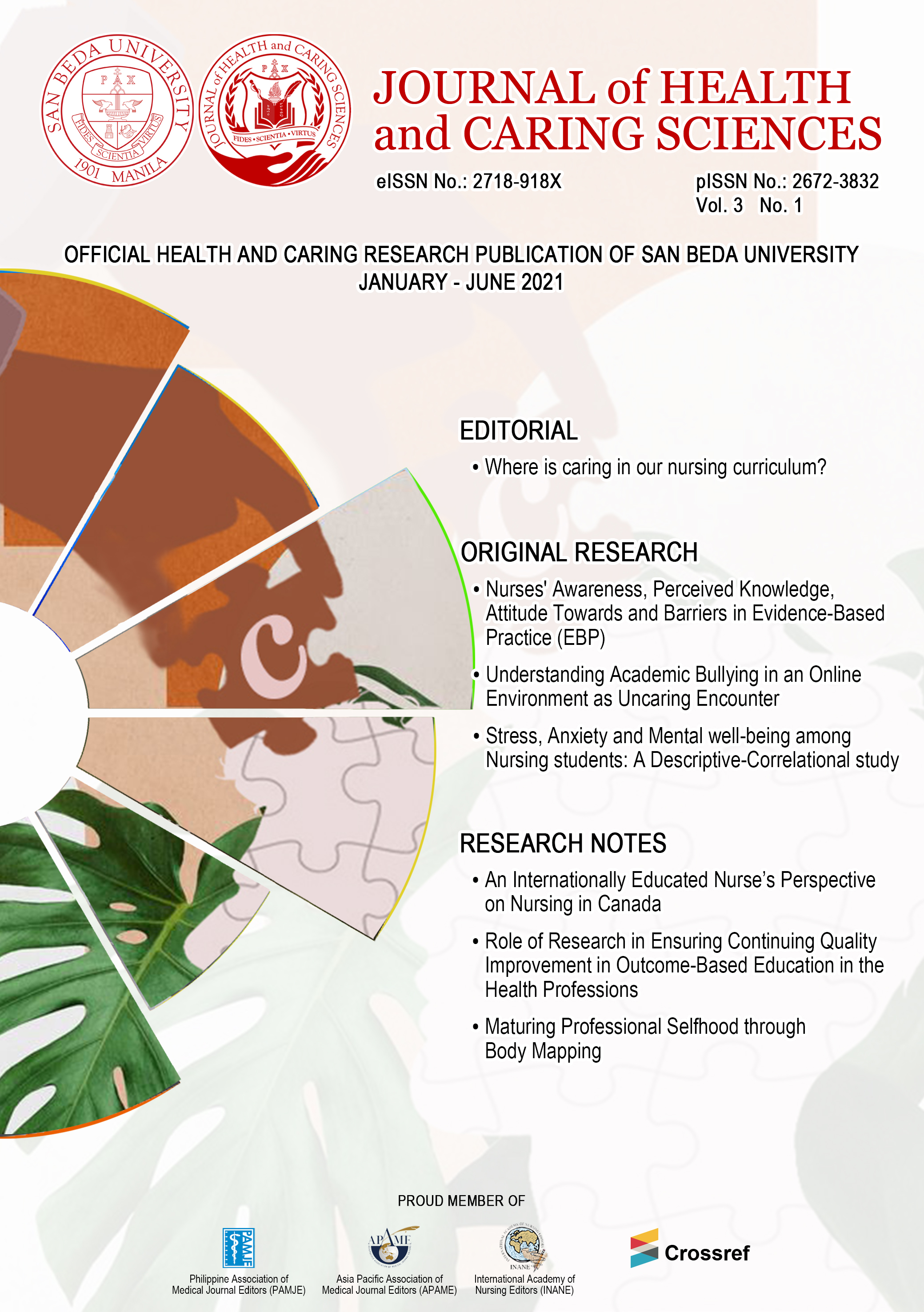 How to Cite
Sarol, Jr., J. (2021). Role of Research in Ensuring Continuing Quality Improvement in Outcome-Based Education in the Health Professions. Journal of Health and Caring Sciences, 3(1), 55-65. https://doi.org/10.37719/jhcs.2021.v3i1.rna002
Copyright (c) 2021 Journal of Health and Caring Sciences
This work is licensed under a Creative Commons Attribution-NonCommercial 4.0 International License.