Nurses' Awareness, Perceived Knowledge, Attitude Towards and Barriers in Evidence-Based Practice (EBP)
Louie Roy Catu

School of Nursing and Allied Medical Sciences, Holy Angel University, Angeles City, Pampanga, Philippines
Keywords:
knowledge, attitude, barriers, Evidence-Based Practice
Abstract
Background: Evidence-based practice (EBP) is one strategy that enables clinicians to succeed in handling emerging literature, and integrating it to achieve high-quality patient outcomes. Although beneficial and innovative it is not considered a priority by many. Most nurses have little, if any, exposure to the clinical research process. 
Purpose: This study aimed to conduct a baseline assessment of perceived knowledge, attitude toward EBP, and barriers to adopting EBP in nursing. 
Methods: The study used a descriptive cross-sectional quantitative design. A convenient sample of 406 nurses participated and completed the EBP questionnaire. For ethical clearance, granted approval from Hospitals' Research Ethics Committee and to HAU-IRB. 
Results: Nurses (n = 156, 38.4%) believes that EBP holistically is composed of patient data and preference, healthcare professionals' skills, and research findings. They (n = 256, 63%) have a positive attitude towards EBP and are willing to accept new healthcare strategies based on research. But expresses less confidence (M = 3.90, SD = 0.64) in identifying clinical issues/problems and translate these into a well-crafted clinical question. They perceived themselves to possess moderate levels of skills to undertake different EBP activities (M = 3.76, SD = 0.61). Knowledge (x(4) = 12.174, p = 0.02), attitudes toward EBP (U = 13947.5, p = 0.04) were significantly better among nurses who had previous EBP training. Similarly, respondents with EBP-related training are more confident in integrating EBP into their practice (U = 13408, p = 0.01). 
Conclusion: Nurses' highest level of education and years of clinical experience affects their implementation skills in adopting EBP. The study reflected the benefits of training, continuing education, and length of experience in the acquisition of skills. Findings can serve as a basis for developing programs to improve nurses' knowledge and attitudes towards EBP. Nurse administrators can create policies that address barriers identified in the study. 
Downloads
Download data is not yet available.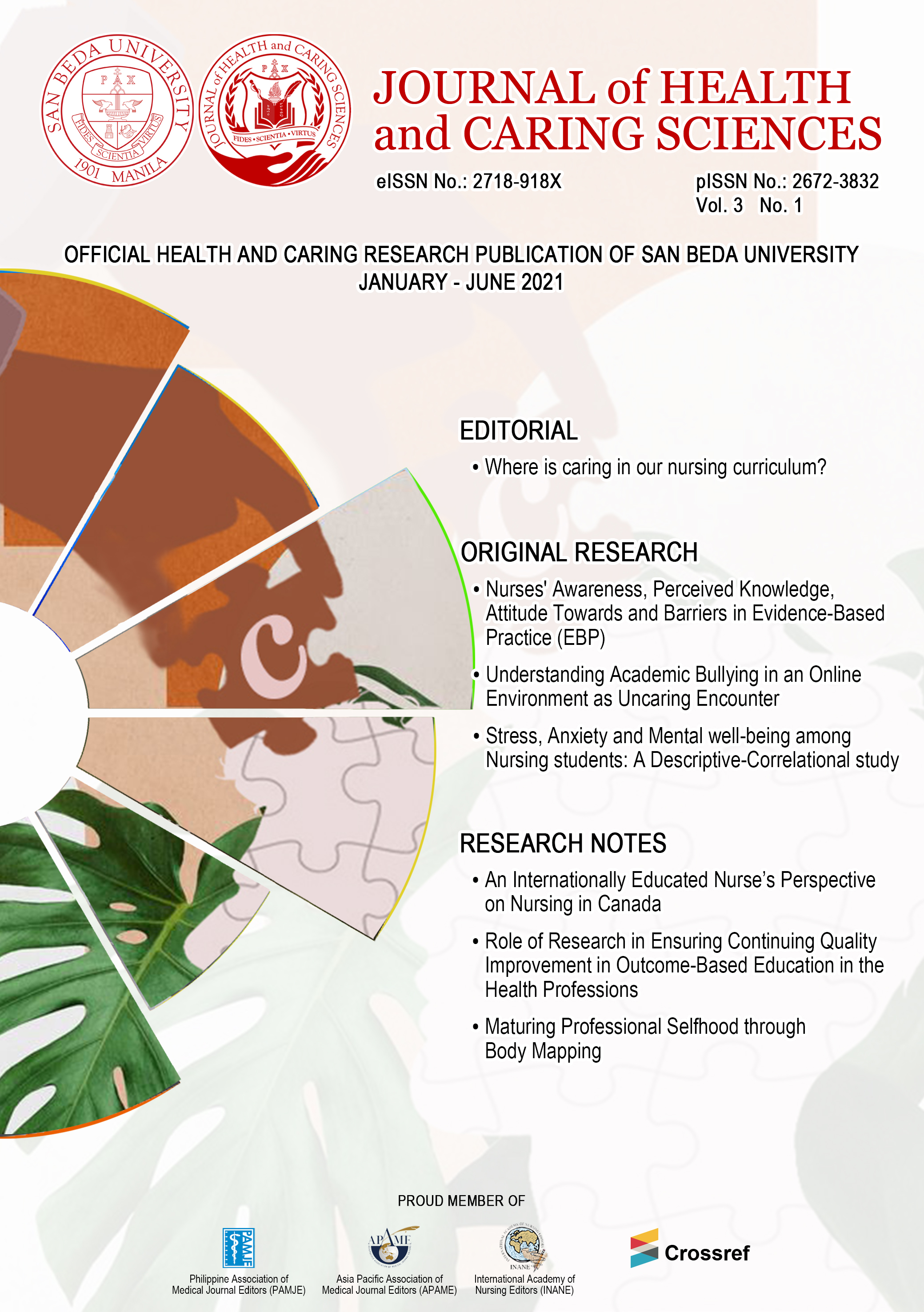 How to Cite
Catu, L. R. (2021). Nurses' Awareness, Perceived Knowledge, Attitude Towards and Barriers in Evidence-Based Practice (EBP). Journal of Health and Caring Sciences, 3(1), 3-17. https://doi.org/10.37719/jhcs.2021.v3i1.oa001
Section
ORIGINAL ARTICLE(S)
Copyright (c) 2021 Journal of Health and Caring Sciences
This work is licensed under a Creative Commons Attribution-NonCommercial 4.0 International License.