Folk Beliefs and Ancient Health Care about Pregnancy in Thai Tradition
Onusa Suwanpratest

Naresuan University, Phitsanulok, Thailand
Keywords:
Ancient health care, folk beliefs, pregnancy, Thai tradition
Abstract
The purpose of this article is to study folk beliefs and ancient health care relating to pregnancy in Thai culture. The methods of study include document study and observation. The study results point out that folk beliefs and ancient health care relating to pregnancy in Thai tradition can be divided into two periods, namely pregnancy period and post pregnancy period. However, the folk beliefs relating to pregnancy connect with healthcare methods and the prevention of the potential risk to mothers and their babies. Without the western medical technology, the ancient health care has focused on the care covering and connecting between bodies and souls, which could be seen in the forms of various prohibition and practical guidelines.
Downloads
Download data is not yet available.
References
Attagara, Kingkeo. (1976). Khatichonvitthaya (Folklore). Ekkasarnnithetkarnsuksa, No.184. Bangkok: Teacher Training Department.
Jamjan, L., Khantarakwong, S., Hongthong, S., & Jampates, N. (2014). Thai Tradition Medicine for Postnatal Mother in the Community of Central Region. Journal of the Royal Thai Army Nurses, 15(2), 195-202
Kaumara-Bhrtya, J. (1991). Thai Traditional Medicine Textbook. Bangkok: Samjareonphanit Printing.
Kheawying, Monthira, et al. (1991). Beliefs and practices during maternal postpartum. Research Grant Sponsored by World Health Organization under theHealth Behavior Research Project for Developing New Researchers, Health Promoting Behavior Research Program.
Mulholland, J. (1971). Thai traditional Medicine: Ancient thought and Practice in a Thai Context. Retrieved from: https://bit.ly/2Yw3Bez
Phya Anuman Rajadhon. (1989). Prapheneekiawkapcheevitkert-tai (Thai Tradition from birth to death). Bangkok: Kurusapa Printing.
Wiwatpanich, K. (1997). Food habits of Moo Ban Sang Saeng, Tambon Nong Kung, Tan Sum District, Ubon Ratchathani. Wiwatpanich, Kantavee and Sasiwongsaroj, Kwanchit. (2007). Medical Sociology and Anthropology. Bangkok: Sukhothai Thammathirat Open University.
World Health Organization. (2010). A Conceptual Framework for Action on the Social Determinants of Health (Discussion Paper Series on Social Determinants of Health, 2). Geneva: WHO Press.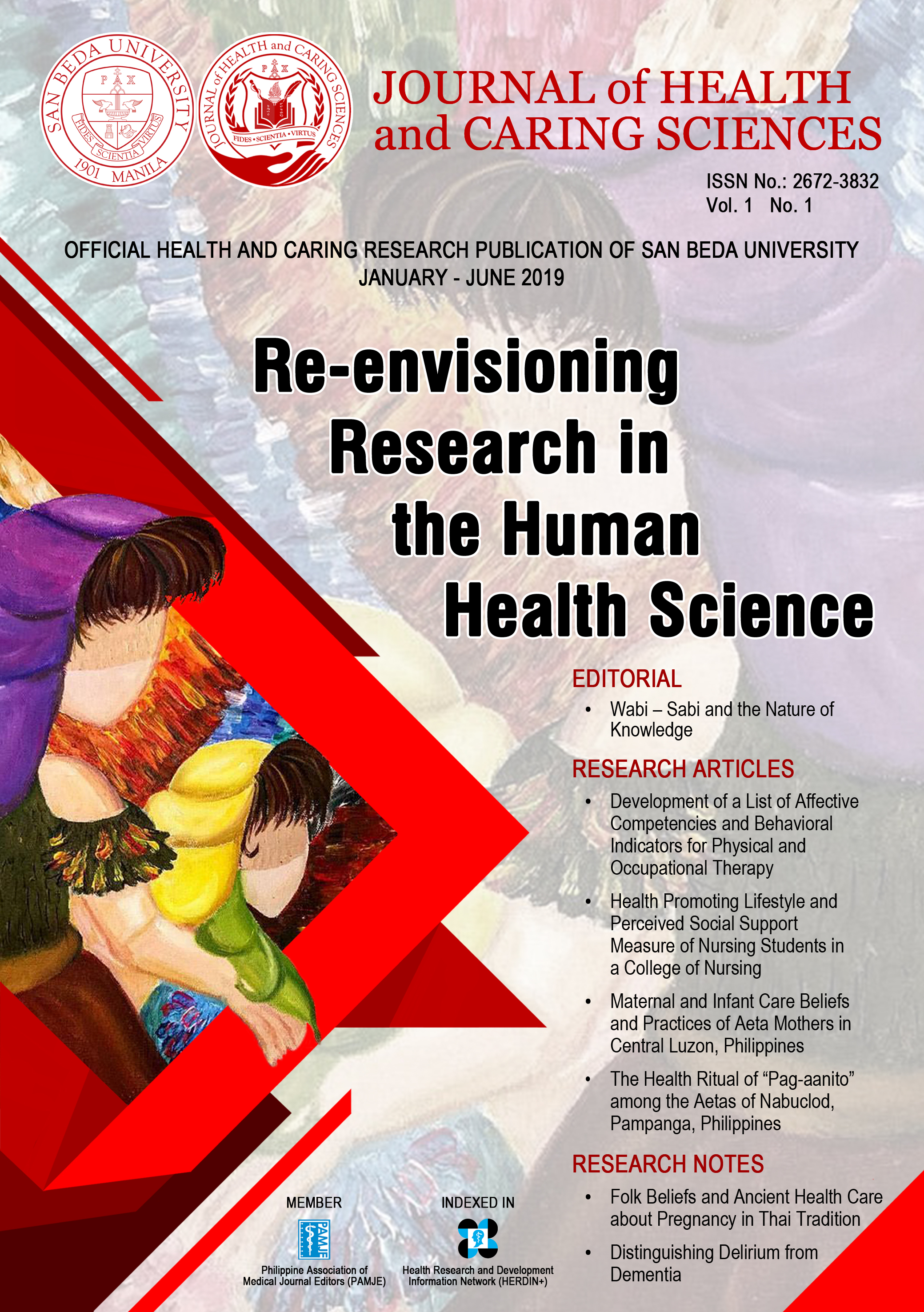 How to Cite
Suwanpratest, O. (2019). Folk Beliefs and Ancient Health Care about Pregnancy in Thai Tradition. Journal of Health and Caring Sciences, 1(1), 48-55. https://doi.org/10.37719/jhcs.2019.v1i1.rna001
Copyright (c) 2020 Journal of Health and Caring Sciences
This work is licensed under a Creative Commons Attribution-NonCommercial 4.0 International License.