Establishing a Pilot Interprofessional Education (IPE) Program in a Higher Education Institution (HEI) in the Philippines
Michael Sy

National Teacher Training Center for the Health Professions, University of the Philippines Manila

Roi Charles Pineda

Department of Rehabilitation Sciences, Katholieke Universiteit Leuven

Reeva Ann Sumulong

College of Pharmacy, De La Salle Medical and Health Sciences Institute

Annalyn Navarro

College of Allied Medical Professions, Angeles University Foundation
Keywords:
collaborative practice, curricular mechanism, educator mechanism, evaluation, health professions education
Abstract
A pilot interprofessional education (IPE) program in the Philippines has been initiated in a private higher education institution by three Filipinos who were formally trained in IPE from a World Health Organization (WHO) Collaborating Centre for Research and Training on IPE. Guided by the WHO educator and curricular mechanisms on IPE and an understanding of the local context, a four-stage action plan was created for the pilot IPE program, which involved 10 health science programs. The experience from the initial implementation was challenging and required perseverance as well as inclusive leadership. Nevertheless, the program's accomplishments such as continuous faculty training in IPE, constant communication among faculty members and students on IPE, and an inter-university collaboration to host the first-ever local IPE conference were noted. The article concludes with lessons learned from the pilot IPE program and future directions in further contributing to the growth and sustainability of IPE programs in the Philippines.
Downloads
Download data is not yet available.
References
Barr, H., Ford, J., Gray, R., Helme, M., Hutchings, M., Low, H., Machin, A., & Reeves, S. (2017). Interprofessional education guidelines 2017. Center for the Advancement of Interprofessional Education. https://www.caipe.org/resources/publications/caipe-publications/caipe-2017-interprofessional-education-guidelines-barr-h-ford-j-gray-r-helme-m-hutchings-m-low-h-machin-reeves-s
Bishop, W. (2016). Integrating IPE into an academic health sciences center: A bottom-up and top-down approach. International Journal of Health Sciences Education, 3(2), 1–7. https://dc.etsu.edu/ijhse/vol3/iss2/2
Cervantes-Sudio, M. G., Ganotice, F. A., & Navarro, A. T. (2020). Are Filipino students ready to collaborate? Comparing the readiness of healthcare students for interprofessional education in the Philippines. Journal of Interprofessional Care. Advance online publication. https://doi.org/10.1080/13561820.2020.1806215
Heinemann, G. D., Schmitt, M. H., & Farrell, M. P. (2002). Attitudes toward health care teams. In G. D. Heinemann & A. M. Zeiss (Eds.), Team performance in health care: Assessment and development (pp. 155–159). Kluwer Academic/Plenum.
Kunifuji S. (2016). A Japanese problem-solving Approach: The KJ Ho Method. In A. Skulimowski & J. Kacprzyk (Eds.), Knowledge, information and creativity support systems: Recent trends, advances, and solutions. Advances in intelligent systems and computing, 364. Springer, Cham. https://doi.org/10.1007/978-3-319-19090-7_13
Paterno E. & Opina-Tan L. A. (2014). Developing community-engaged interprofessional education in the Philippines. In D. Forman, M. Jones, & J. Thistlethwaite (Eds.), Leadership development for interprofessional education and collaborative practice (pp. 162–178). Palgrave Macmillan.
Stufflebeam, D. J., & Shinkfield, A. J. (2007). Evaluation theory, models, and applications. Jossey-Bass.
Sy, M. P., Escuadra, C. J., & Sumulong, R. A. L. (2019). The birth of a national network for interprofessional education and collaboration: Results from an inter-university partnership. Philippine Journal of Allied Health Sciences, 3(1). https://doi.org/10.36413/pjahs.0301.007
World Health Organization. (2010). Framework for action on interprofessional education and collaborative practice. The Organization.
World Health Organization. (2013). Transforming and scaling up health professionals' education and training: World Health Organization guidelines 2013. The Organization. https://www.who.int/hrh/resources/transf_scaling_hpet/en/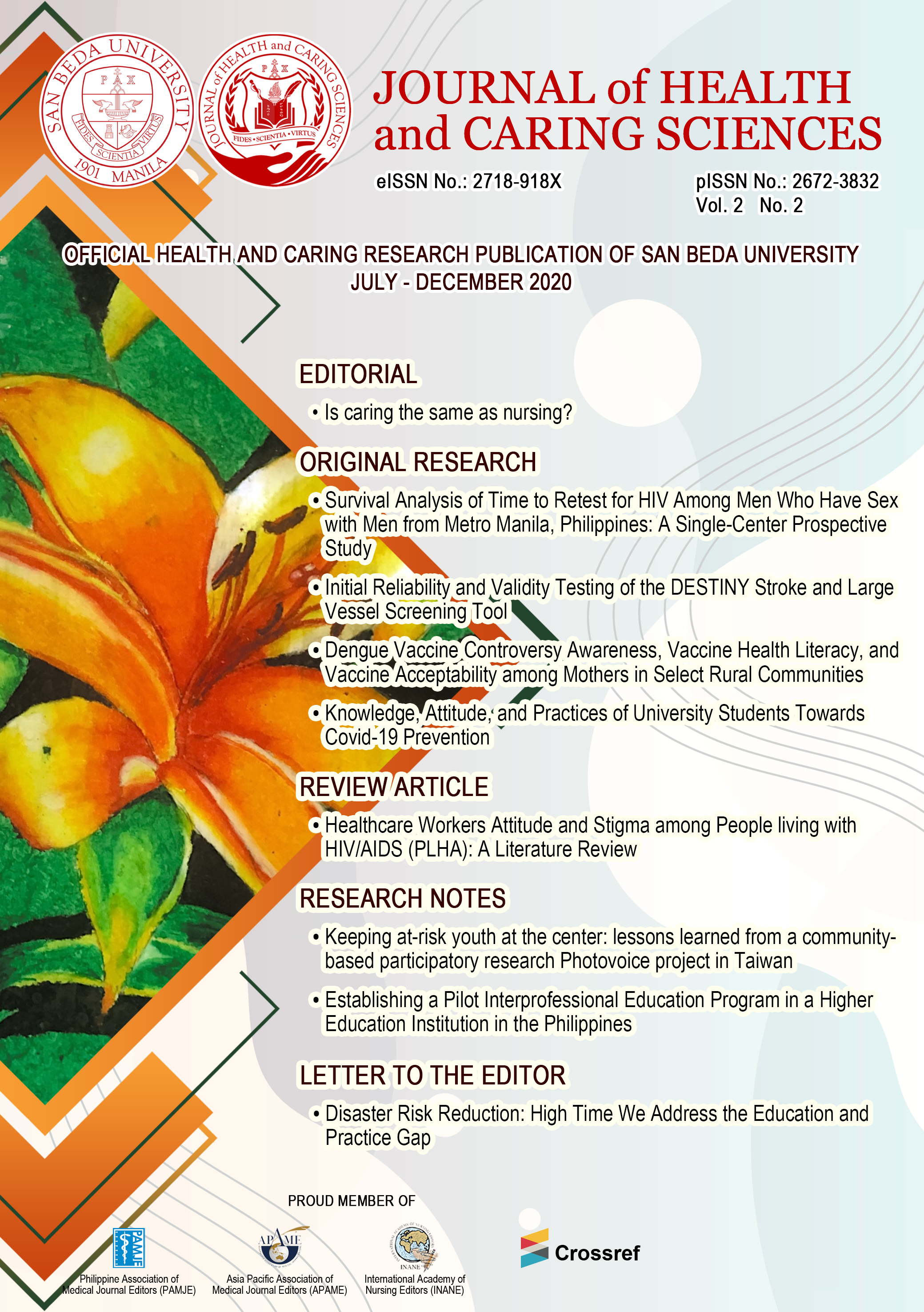 How to Cite
Sy, M., Pineda, R. C., Sumulong, R. A., & Navarro, A. (2020). Establishing a Pilot Interprofessional Education (IPE) Program in a Higher Education Institution (HEI) in the Philippines. Journal of Health and Caring Sciences, 2(2), 180-191. https://doi.org/10.37719/jhcs.2020.v2i2.rna004
Copyright (c) 2020 Journal of Health and Caring Sciences
This work is licensed under a Creative Commons Attribution-NonCommercial 4.0 International License.