Maternal and Infant Care Beliefs and Practices of Aeta Mothers in Central Luzon, Philippines
Marlon Jose

Department of Education, City of Balanga, Bataan, Philippines

Juanito Leabres Jr.

Wesleyan University, Cabanatuan City, Nueva Ecija, Philippines

Alvin Nuqui

La Consolacion University, Malolos City, Bulacan, Philippines

Jessie Nogoy

Angeles University Foundation, Angeles City, Pampanga, Philippines

Rene Pudadera

Ramon Magsaysay Technological University, Zambales, Philippines

Wilfredo Ramos

Wesleyan University, Cabanatuan City, Nueva Ecija, Philippines
Keywords:
Aeta, health beliefs and practices, perinatal, pregnant women, safe delivery
Abstract
Background: This study attempts at understanding the Aetas concept of maternal and infant care, specifically, beliefs and practices of Aeta mothers during pregnancy, childbirth and care of the infant.
Methodology: Qualitative descriptive design was utilized in this research. Forty Aeta mothers were informants of this study selected via purposive sampling. Participant observation, formal and informal interviews and examination of relevant documents were the instruments for data collection.
Findings: Most respondents were between 16-27 years old, from the province of Zambales, with two pregnancies and one living child. The majority had home deliveries attended by traditional birth attendants or next of kin and had visits to the Rural Health Units for a prenatal check-up. It was found that most Aeta mothers usually visit the Rural Health Unit in their second trimester. The mothers also rely on traditional beliefs and practices passed on from elders of the community particularly on diet, hygiene, and faith in God, preparation prior to delivery, cord care and use of placenta.
Conclusion: The findings showed that the majority of the Aeta mothers interviewed adhered to some form of belief and practice that were passed to them by their elders.
Implication: Stakeholders such as government and non-government organizations should pursue promoting and enriching beliefs and practices of the Aeta and reinforcing programs with an emphasis on indigenous minorities to follow safe delivery and motherhood practices that are culturally acceptable.
Downloads
Download data is not yet available.
References
Coffey, P. & Brown, S. (2017). Umbilical cord-care practices in low-and middle-income countries: a systematic review. BMC Pregnancy and Childbirth. 2017; 17(1). doi: 10.1186/s12884-017-1250-7
David, M. E., (2011). Aeta Mag-anchi's Cultural History, Concept of Time and Territoriality: Its Implications to Education. International Conference on Social Science and Humanity, 5, 112-116
Grey. E. (2016). Cultural Beliefs and Practices of Ethnic Filipinos: An Ethnographic Study. International Journal of Management and Social Sciences. 3(3), 739-748. doi: 10.21013/jmss.v3.n3.p30
Martinez, R., Cortez, A. & Contreras, V. (2019). Understanding the concept of Usog among the Aetas of Nabuclod, Pampanga, Philippines. Journal of Social Health, 2(1), 18-27.
Palacio, M. A., Palacio C. S., Ebuenga, L. C., Valladolid, E. S. (2014). Maternal-infant health beliefs and practices of mothers in resettlement sites in the province of Albay. International Journal of Technical Research and Application.
Palispis, E. S. (2012). Introduction to Sociology and Anthropology. Quezon City, Philippines: Rex Bookstore.
Tindowen, D. (2016). The Economic Life of the Aetas of Northern Philippines. Khazar Journal of Humanities and Social Sciences, 19(4), 97-109.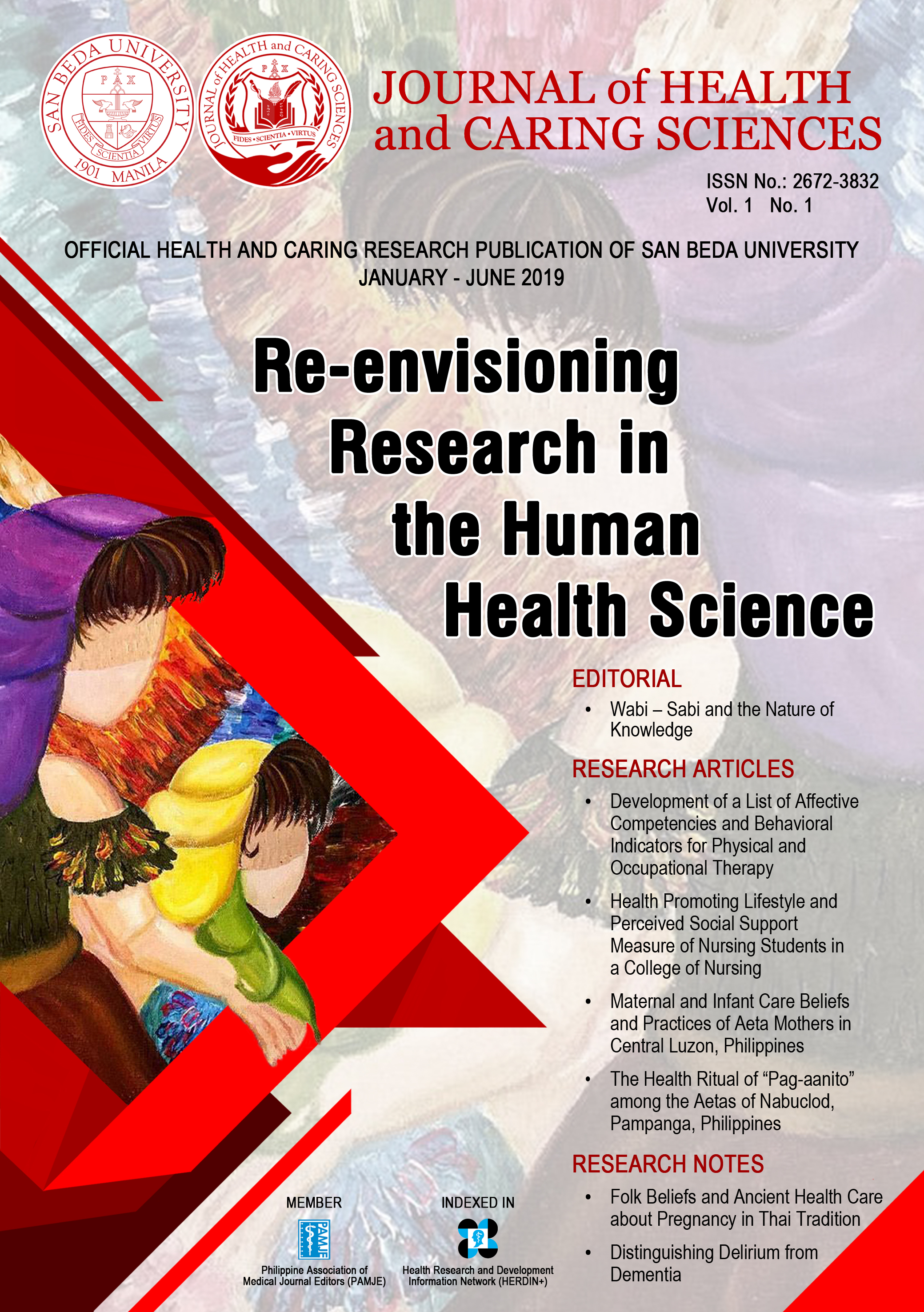 How to Cite
Jose, M., Leabres Jr., J., Nuqui, A., Nogoy, J., Pudadera, R., & Ramos, W. (2019). Maternal and Infant Care Beliefs and Practices of Aeta Mothers in Central Luzon, Philippines. Journal of Health and Caring Sciences, 1(1), 33-40. https://doi.org/10.37719/jhcs.2019.v1i1.oa003
Section
ORIGINAL ARTICLE(S)
Copyright (c) 2020 Journal of Health and Caring Sciences
This work is licensed under a Creative Commons Attribution-NonCommercial 4.0 International License.