The Effect of Healing Garden to Improve the Patients Healing: An Integrative Literature Review
Agustina Sri Oktri Hastuti

Stikes Panti Rapih of Jogjakarta, Indonesia

Josephine Lorica

St. Paul University Philippines, Tuguegarao, Philippines
Keywords:
healing garden, holistic healing, hospital, patients
Abstract
Background: Healing Garden (HG) is developed as one of the therapies that do not only help in the physical recovery of the patient but also helps to restore mental, social, and spiritual health. This paper aims to determine the benefit of Healing Garden for the patients in the hospital and to produce evidence that Healing Garden relates to the positive experiences of the patients and contributes to their feeling of well-being.
Method: The study utilized An Integrative Literature Review of Literatures through EBSCO, ProQuest, and Google Scholar. The articles searched were within 10 years, starting in 2007 until 2017 using the following terms for Boolean Search: "Healing Garden AND/OR Healing environment AND Hospital". Systematic search related to the topic was started on January 26, 2018 to February 6, 2018.
Results: The results of the study revealed seven themes which include 1). Nature provides positive energy for patients, 2) Healing Garden as a protected self-expression space, 3). Healing Garden has the potential to improve the quality of life for patients both physically and psychologically 4). Nature provides space to relate and socialize for patients and families, 5). Garden therapy as a bridge between the outside and spiritual world, 6) Nurses have an important role as a professional in creating a healing environment, and 7). The garden as a "Healing Garden" that should be visible, accessible, quiet, and comfortable.
Conclusion: The report of the study gives an overview that Healing Garden therapy has the various advantage that can effectively accelerate holistic healing. It is recommended to build healing gardens such as at the workplaces, schools, public areas, and other places where people can relax and unwind.
Downloads
Download data is not yet available.
References
Barello, S., Graffigna, G., Menichetti, J., Sozzi, M., Savarese, M., Bosio, A. C., Corbo, M. (2016).The Value of a Therapeutic Gardening Intervention for Post-Stroke Patients' Engagement During Rehabilitation: An Exploratory Qualitative Study. Journal of Participatory Medicine, 8, 1-9
Crosetti, M. & Crosetti, M.D.O (2012). An integrative review of nursing research: Scientific rigour required. Nursing Brazilian Journal, 33(2), 12-13.
Dietz, L. (n.d.). Healing Spaces: Gardening Activities for Stress-Reduction. http://soundideas.pugetsound.edu/cgi/viewcontent.cgi?article=1050&context=ms_occ_therapy
Dijkstra, K. (2009). Understanding healing environments : effects of physical environmental stimuli on patients' health and well-being. Enschede: University of Twente. https://doi.org/10.3990/1.9789036527958
Erickson, M. S. (2012). Restorative garden design: Enhancing wellness through healing spaces. JAD Art Design Journal, 2, 89-102.
Fleming, L., Morrison, J., & Oh, D. (2013). Healing Gardens Therapeutic Gardens, (1984), 1–2.Ganong, L.H. (1987). Integrative reviews of nursing research. Research in Nursing & Health, 10(1), 1-11. https://doi.org/10.1002/nur.4770100103
Goodson, P., & Ulrich, R. (2008). Effect of healing garden use on stress experienced by parents of patients in a pediatric hospital.http://oaktrust.library.tamu.edu/bitstream/handle/1969.1/ETD-TAMU-2008-05-8/Toone_Thesis.pdfReferences
Hastuti, S., O. (2017). Healing Garden Therapy is a Holistic Healing for the Patients. Journal IRC, 4. St. Paul University Philippines
Ivarsson, C. T., &Grahn, P. (2010). Patients' experiences and use of a therapeutic garden: from a designer's perspective. Schweizerische Swiss Journal of Forestry, 161(3), 104–113. https://doi.org/10.3188/szf.2010.0104
Marcus, C. C. (2007). Healing Gardens in Hospitals.Design and Health,1(1), 1–27.
Moher, D., Liberati, A., Tetzlaff, J., Altman, D.G. (2009) Preferred reporting items for systematic reviews and meta analyses: the PRISMA statement. Open Medicine, 3:e123–e130
Pouya, S., Bayramoğlu, E., Demirel, Ö., Teknik Üniversitesi, K., Fakültesi, O., Mimarlığı Bölümü, P., & Yazar, S. (2016). Restorative Garden as a Useful Way to Relieve Stress in Megacities, a Case Study in Istanbu. İnönü University Journal of Art and Design, 6(13), 355–369. https://doi.org/10.16950/iüstd.55348
van Der Riet, P., Jitsacorn, C., Junlapeeya, P., & Dedkhard, S. (2014). Nurses ' stories of a " Fairy Garden " healing haven for sick children. Journal of Clinical Nursing, 23(23-24), 3544–3554. https://doi.org/10.1111/jocn.12637
Rowlands, J., & Noble, S. (2008). How does the environment impact on the quality of life of advanced cancer patients? A qualitative study with implications forward design. Palliative Medicine, 22(6), 768-774. https://doi.org/10.1177/0269216308093839
Said, I., Sarofil, M., & Bakar, A. (2006). Phenomenological Approach in Determining Responses of Hospitalised Children Experiencing a Garden. Jurnal Alam Bina, 8(1). https://core.ac.uk/download/pdf/11782000.pdf
Say Jer, O., & Ibrahim, F. (2014). Enhancement of Space Environment Via Healing Garden. American Transactions on Engineering & Applied Sciences, 1(1), 281-298.
Schauer, Becky; Koch, Kishori; Lemieux, Laura; and Willey, Kendra. (2016). How Immersion in Nature Impacts the Human Spirit: A Phenomenological Study. St. Catherine University repository website: https://sophia.stkate.edu/ma_hhs/8
Ward, M. M. (2013). Sense of control and self-reported health in a population-based sample of older Americans: assessment of potential confounding by affect, personality, and social support. International Journal of Behavioral Medicine, 20(1), 140–7. https://doi.org/10.1007/s12529-011-9218-x
Waters, P. J., Kritek, P. B., Cowling Iii, R., Peloquin, S. M., Fenton, M., & Hill, A. (2008). Characteristics of a healing environment as described by expert nurses who practice within the conceptual framework of rogers' science of unitary human beings: a qualitative study. http://citeseerx.ist.psu.edu/viewdoc/download?doi=10.1.1.464.1511&rep=rep1&type=pdf
Weerasuriya, R., Townsend, M., Henderson-Wilson, C., & Wells, S. (2016). Exploring the health and well-being experiences in accessing gardens within a health care setting in Australia: the preliminary findings. Acta Horticulturae, (1121), 59–68. https://doi.org/10.17660/ActaHortic.2016.1121.10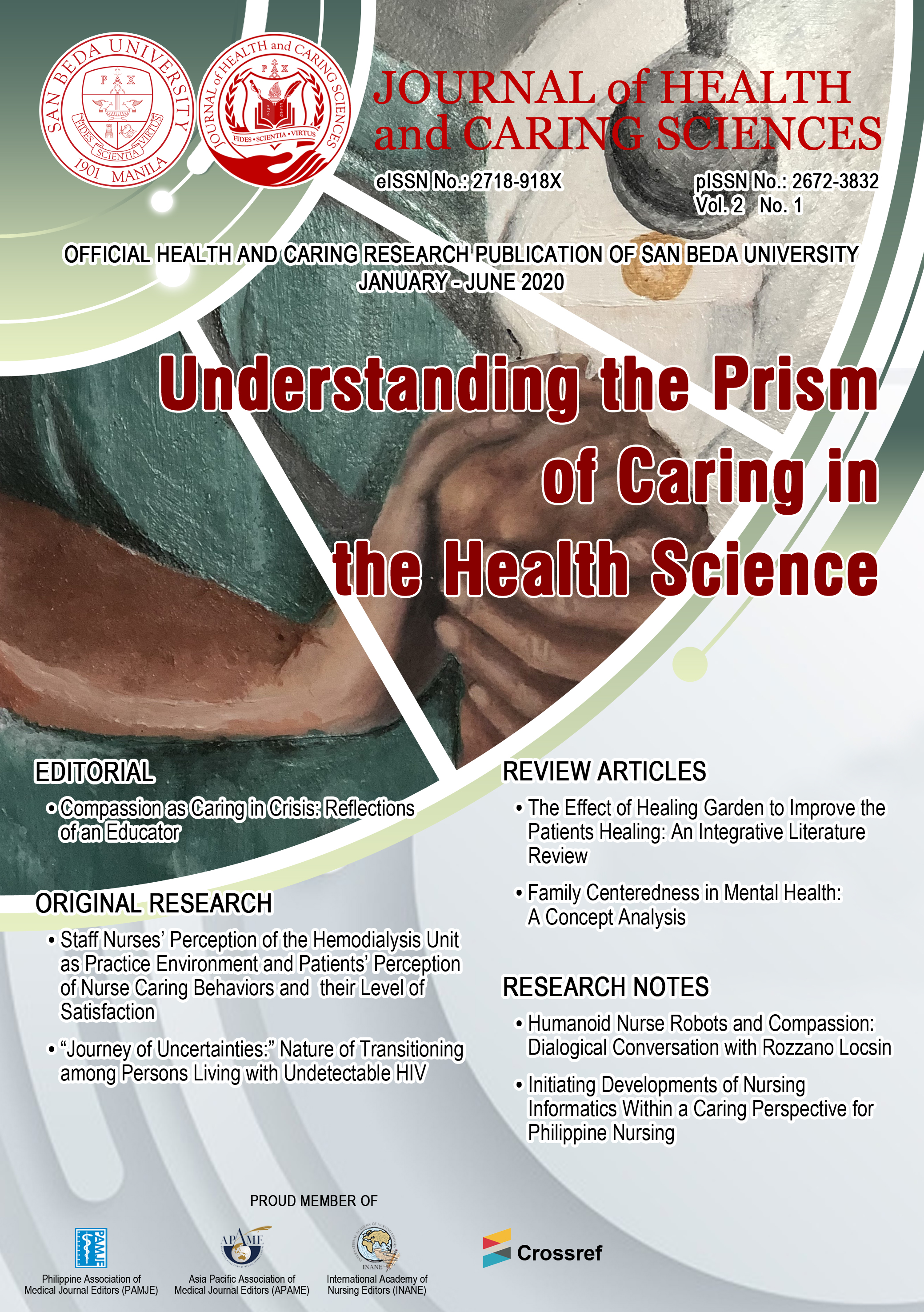 How to Cite
Hastuti, A. S. O., & Lorica, J. (2020). The Effect of Healing Garden to Improve the Patients Healing: An Integrative Literature Review. Journal of Health and Caring Sciences, 2(1), 34-47. https://doi.org/10.37719/jhcs.2020.v2i1.ra001
Section
REVIEW ARTICLE(S)
Copyright (c) 2020 Journal of Health and Caring Sciences
This work is licensed under a Creative Commons Attribution-NonCommercial 4.0 International License.