Wabi – Sabi and the Nature of Knowledge
Rudolf Cymorr Kirby Martinez

San Beda University, Manila, Philippines
Keywords:
Knowledge, nature, wabi-sabi
Abstract
This paper explores the parallel nature of Wabi-sabi, the Japanese aesthetic principle of beauty and our understanding of the nature of knowledge: that they are impermanent, imperfect, and incomplete. It further gives emphasis on the implied ethical and moral obligation of the social scientist in the continued dissemination of knowledge given its inherent nature.
Downloads
Download data is not yet available.
References
Johnson, D., Lineweaver, L., & Maze, L. M. (2009). Patients' bath basins as potential sources of infection: a multicenter sampling study. American Journal of Critical Care, 18(1), 31-40.
Koren, L. (2008). Wabi-sabi for artists, designers, poets & philosophers. Imperfect Publishing.
Newman, M., Sime, A. M., & Corcoran-Perry, S. (1999). The focus of the discipline of nursing. Perspectives on Philosophy of Science in Nursing, 20-24.
Veje, P., & Larsen, P. (2014). The effectiveness of bed bathing practices on skin integrity and hospital-acquired infections among adult patients: a systematic review protocol. JBI Database of Systematic Reviews and Implementation Reports, 12(2), 71-81.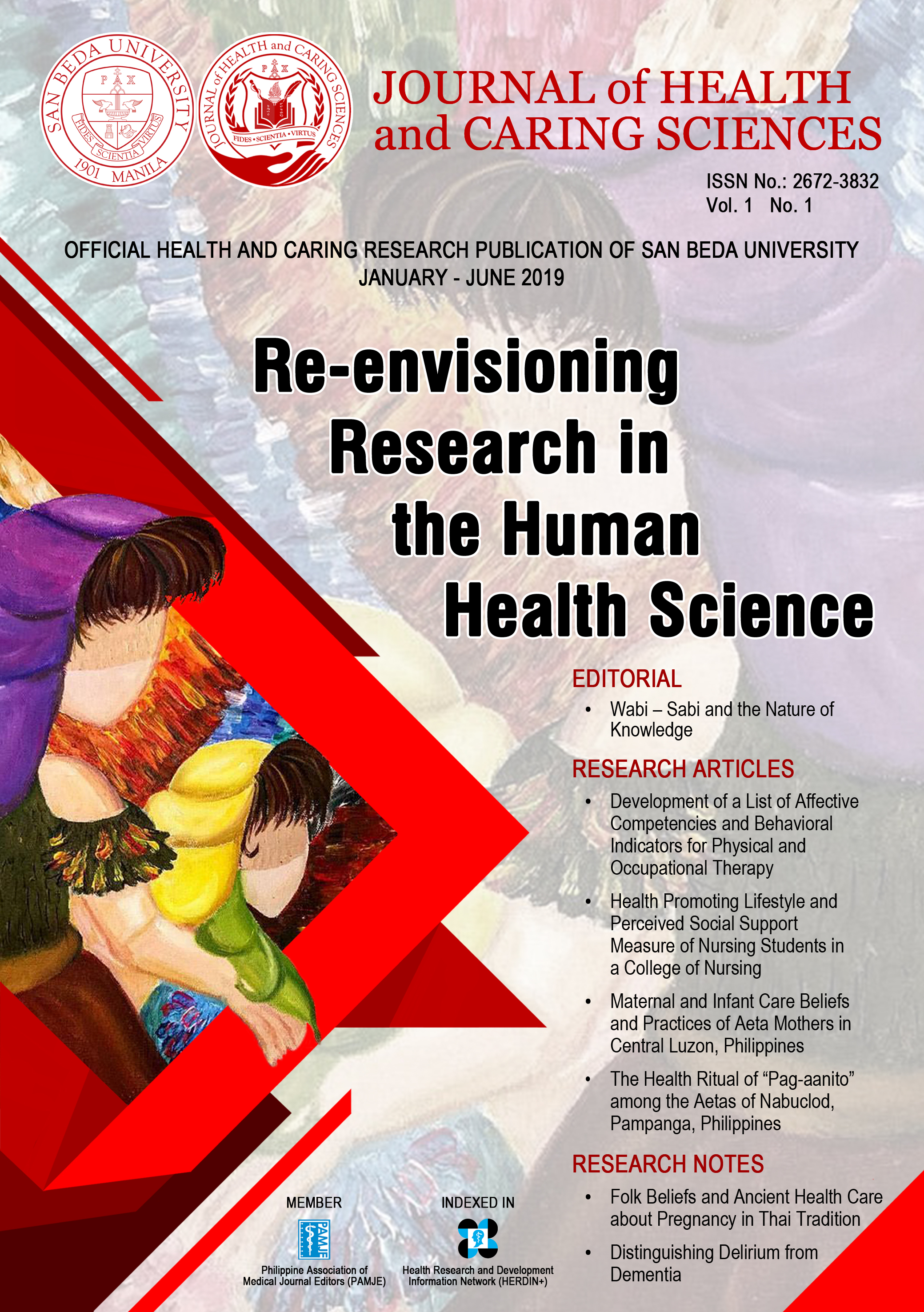 How to Cite
Martinez, R. C. K. (2019). Wabi – Sabi and the Nature of Knowledge. Journal of Health and Caring Sciences, 1(1), 1-2. https://doi.org/10.37719/jhcs.2019.v1i1.e001
Copyright (c) 2020 Journal of Health and Caring Sciences
This work is licensed under a Creative Commons Attribution-NonCommercial 4.0 International License.