Teacher Support and other Associated Factors as Perceived by Nursing Students
Walter Jerome Cabale

San Beda University, Manila, Philippines
Downloads
Download data is not yet available.
References
Demir, M., Burton, S., & Dunbar, N. (2018). Professor–Student Rapport and Perceived Autonomy Support as Predictors of Course and Student Outcomes. Teaching of Psychology, 46(1), 22–33. doi:10.1177/0098628318816132
Lei, H., Cui, Y., & Chiu, M. M. (2018). The Relationship between Teacher Support and Students' Academic Emotions: A Meta-Analysis. Frontiers in Psychology, 8. doi:10.3389/fpsyg.2017.02288
Peltzer, K., Pengpid, S., Samuels, T., Özcan, N., Mantilla, C., Rahamefy, O., Wong, M., Gasparishvili, A. (2014). Prevalence of Overweight/Obesity and Its Associated Factors among University Students from 22 Countries. International Journal of Environmental Research and Public Health, 11(7), 7425–7441. doi:10.3390/ijerph110707425
Sogari, G., Velez-Argumedo, C., Gómez, M., & Mora, C. (2018). College Students and Eating Habits: A Study Using An Ecological Model for Healthy Behavior. Nutrients, 10(12), 1823. doi:10.3390/nu10121823
Tejada, R. S. (2019). Health Promoting Lifestyle and Perceived Social Support Measure of Nursing Students in a Selected College of Nursing. Journal of Health and Caring Sciences, 1(1), 21-32. doi: 10.37719/jhcs.2019.v1i1.oa002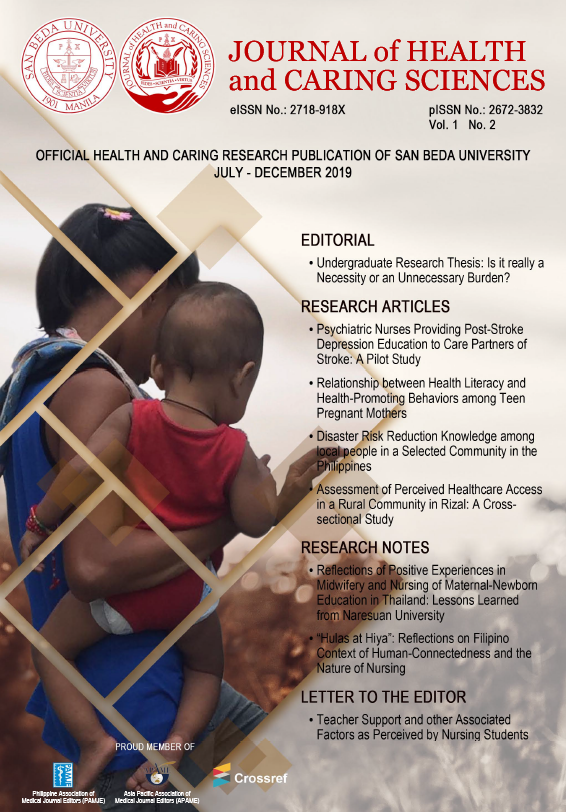 How to Cite
Cabale, W. J. (2019). Teacher Support and other Associated Factors as Perceived by Nursing Students. Journal of Health and Caring Sciences, 1(2), 124-125. https://doi.org/10.37719/jhcs.2019.v1i2.lte001
Section
LETTER TO THE EDITOR
Copyright (c) 2020 Journal of Health and Caring Sciences
This work is licensed under a Creative Commons Attribution-NonCommercial 4.0 International License.