"Hulas at Hiya": Reflections on Filipino Context of Human-Connectedness and the Nature of Nursing
Rudolf Cymorr Kirby Martinez

San Beda University, Manila, Philippines
Keywords:
Hiya, hulas, knowing, knowledge, nursing
Abstract
This paper, through the lens of ethnography, explores and analyze the Filipino concept of hulas and hiya as the context of human-connectedness and its implication to the contemporary understanding of the nature of nursing and the process of knowing persons as persons. It is argued that the concepts of hiya and hulas are social constructs deeply ingrained in the Filipino psyche and society. Both markedly influence how Filipino persons present themselves and act in accordance with their unique and complex social dynamics. As such, this paper supports the idea that between the dichotomy of social and medical sciences, the discipline of Nursing shares the paradigmatic orientation and values of the former more than the latter. It is implied that education in nursing at the undergraduate and postgraduate levels must include scholarship, research, and studies on the prevailing local cultural knowledge to shed a deeper appreciation of unique practices and concepts affecting the understanding of nursing science and its expression as a discipline.
Downloads
Download data is not yet available.
References
Bulatao, J. C. (1964). Hiya. Philippine Studies, 12(3), 424-438.
Cody, W. K. (1995). About all those paradigms: many in the universe, two in nursing. Nursing Science Quarterly, 8(4), 144-147.
Hagerty, B. M., Lynch‐Sauer, J., Patusky, K. L., & Bouwsema, M. (1993). An emerging theory of human relatedness. Image: The Journal of Nursing Scholarship, 25(4), 291-296. doi: 10.1111/j.1547-5069.1993.tb00262.x
Lasquety-Reyes, J. (2016). In defense of hiya as a Filipino virtue. Asian Philosophy, 26(1), 66-78. doi:10.1080/09552367.2015.1136203
Latimer, S. L. (2013). Human connectedness in nursing: A case study. Contemporary Nurse, 44(1), 45-46.doi:10.5172/conu.2013.44.1.45
Laughame, C. (1995). Ethnography: research method or philosophy? Nurse Researcher, 3(2), 45–54. doi:10.7748/nr.3.2.45.s5
Ligo-Ralph, V. (1990). Some theses concerning the Filipino value system. Philippine Quarterly of Culture and Society, 18(3), 149-161.
Maneze, D., DiGiacomo, M., Salamonson, Y., Descallar, J., & Davidson, P. M. (2015). Facilitators and Barriers to Health-Seeking Behaviours among Filipino Migrants: Inductive Analysis to Inform Health Promotion. BioMed Research International, 2015, 1-9. doi:10.1155/2015/506269
Martinez, R. C. K. P. (2019). "Lost Touch": Situating Human-Connectedness in Technology-Caring in the Health Sciences. The Journal of Medical Investigation, 66(1.2), 12-14. doi: 10.2152/jmi.66.12
Pe‐Pua, R., & Protacio‐Marcelino, E. A. (2000). Sikolohiyang Pilipino (Filipino psychology): A legacy of Virgilio G. Enriquez. Asian Journal of Social Psychology, 3(1), 49-71. doi: 10.1111/1467-839X.00054
Sinclair, S., Raffin-Bouchal, S., Venturato, L., Mijovic-Kondejewski, J., & Smith-MacDonald, L. (2017). Compassion fatigue: A meta-narrative review of the healthcare literature. International Journal of Nursing Studies, 69, 9-24. doi: 10.1016/j.ijnurstu.2017.01.003
Watkins, D., & Gutierrez, M. (1989). The structure of self‐concept: Some Filipino evidence. Australian Psychologist, 24(3), 401-410. doi:10.1080/00050068908259578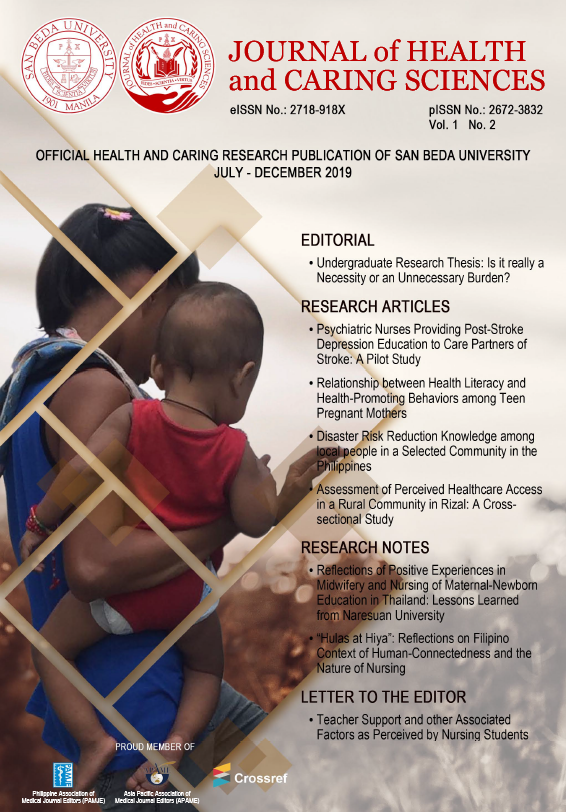 How to Cite
Martinez, R. C. K. (2019). "Hulas at Hiya": Reflections on Filipino Context of Human-Connectedness and the Nature of Nursing. Journal of Health and Caring Sciences, 1(2), 118-123. https://doi.org/10.37719/jhcs.2019.v1i2.rna004
Copyright (c) 2020 Journal of Health and Caring Sciences
This work is licensed under a Creative Commons Attribution-NonCommercial 4.0 International License.