Relationship between Health Literacy and Health-Promoting Behaviors among Teen Pregnant Mothers
Ariese Vincent Barca

Systems Plus College Foundation, Angeles City, Pampanga, Philippines

Reinlynne Bajar

Systems Plus College Foundation, Angeles City, Pampanga, Philippines

Amanda Caniezo

Systems Plus College Foundation, Angeles City, Pampanga, Philippines

Monique Louise Dizon

Systems Plus College Foundation, Angeles City, Pampanga, Philippines

Christian Jay Orte

Systems Plus College Foundation, Angeles City, Pampanga, Philippines
Keywords:
Health literacy, health-promoting behaviors, maternal health, teen pregnant mothers
Abstract
Background: Teenagers who became pregnant face many pregnancy difficulties as they are less likely to have enough physical development to withstand a healthy pregnancy or to give birth. Thus, health literacy and the promotion of healthy behavior among pregnant mothers are of paramount importance. This study is aimed to assess the relationship between health literacy and health-promoting behaviors among the selected teen pregnant mothers in attaining maternal health.
Methods: Descriptive-correlational design was employed in this study. A total of 46 respondents participated in the study through a purposive sampling technique. The research instruments used were the Adolescent Health Promotion Scale and Comprehensive Short-form Health Literacy Survey Tool for Patients in General. Frequency, percentage, descriptive mean, and spearman Rank Correlation were used to analyze the data gathered.
Results: Results showed that teen pregnant mothers have high levels of health literacy (n=2.16) but with low levels of health-promoting behavior (n=3.45). Lastly, it was found out these variables were statistically nonsignificant (rs (47) = -0.127, p =0.393) to each other.
Conclusion: The study found out that there is no significant relationship between health literacy and health-promoting behaviors among teen pregnant mothers.
Downloads
Download data is not yet available.
References
Azugbene, E. (2017). Maternal Health Literacy and Maternal and Child Health Outcomes: A Review of the Literature. Annals of Global Health, 83(1), 94. doi:10.1016/j.aogh.2017.03.208
Burns, N., Grove, S. K. & Gray, J. (2011). Understanding Nursing Research: Building an Evidence-based practice (5th ed). St. Louis, MO: Saunders/Elsevier.
Fathnezhad Kazemi, A., Hajian, S., Ebrahimi-Mameghani, M. & Khabaz Khob, M. (2017). The Perspectives of Pregnant Women on Health-Promoting Behaviors: an Integrative Systematic Review. International Journal of Women's Health and Reproduction Sciences, 6(2), 97–105. doi: 10.15296/ijwhr.2018.17
Fathnezhad-Kazemi, A., & Hajian, S. (2019). Factors Influencing the Adoption of Health Promoting Behaviors in Overweight Pregnant Women: A Qualitative Study. BMC Pregnancy and Childbirth, 19(1), 43. doi:10.1186/s12884-019-2199-5
Ghanbari S, Majlessi F, Ghaffari M, & Mahmoodi Majdabadi M. (2012). Evaluation of Health Literacy of Pregnant Women in Urban Health Centers of Shahid Beheshti Medical University. Daneshvar Medicine. 19 (97). 1-12 ReferencesConclusion
Huang, H. L. , Van Duong, T., Chang, P. W., Yang, S. H., Chen, M. C., Chao, W. T., ... & Chen, T.(2017). A New Comprehensive Short-form Health Literacy Survey Tool for Patients in General. Asian nursing research, 11(1), 30-35. doi:10.1016/j.anr.2017.02.001
Ivanova, K., Olecka, I., Hruba, K., Ondra, P., Jurickova, L., Hanak, P., & Horakova, D. (2017). Content of Maternal Health Literacy in the First Year of Motherhood. European Journal of Public Health, 27 (suppl_3). doi:10.1093/eurpub/ckx186.289
Lee, J. Y. (2016). Maternal Health Literacy among Low-Income Mothers with Infants. (Published Doctoral Dissertation: The University of Texas at Austin, USA), Retrieved from http://hdl.handle.net/2152/40335
Lee, J. Y., Murry, N., Ko, J., & Kim, M. T. (2018). Exploring the Relationship between Maternal Health Literacy, Parenting Self-Efficacy, and Early Parenting Practices among Low-Income Mothers with Infants. Journal of Health Care for the Poor and Underserved, 29(4), 1455–1471. doi: 10.1353/hpu.2018.0106
Lin, Y. H., Tsai, E., Chan, T.-F., Chou, F.-H., & Lin, Y.-L. (2009). Health Promoting Lifestyles and Related Factors in Pregnant Women. Chang Gung Medical Journal, 32, 650–661.
Olander, E. K., Smith, D. M., & Darwin, Z. (2018). Health Behaviour and Pregnancy: A Time for Change. Journal of Reproductive and Infant Psychology, 36(1), 1–3. doi:10.1080/02646838.2018.1408965
Polit, D. F. & Beck, C. T. (2008). Nursing Research: Generating and Assessing Evidence for Nursing Practice (8th ed). Philadelphia: Wolters Kluwer Health/Lippincott Williams & Wilkins.
Renkert, S. & Nutbeam, D. (2001). Opportunities to Improve Maternal Health Literacy through Antenatal Education: An Exploratory Study. Health Promotion International, 16(4), 381-388.
Tomás, C. C., Queirós, P. J. P. & Ferreira, T. (2015). Health-promoting Behaviors: Psychometric Properties of an Assessment Tool. Texto & Contexto-Enfermagem, 24(1), 22-29. doi: 10.1590/0104-07072015000700014
Viboonwatthanakitt R, Pancharean S. & Tipalonkot Y. (2007). The Relationship between Attitude toward Pregnancy and Lifestyle in Adolescent Pregnancy. Nursing Journal. 34(2): 90-97.
Walker, Z. A., & Townsend, J. (1999). The Role of General Practice in Promoting Teenage Health: A Review of the Literature. Family Practice, 16(2), 164–172. doi: 10.1093/fampra/16.2.164
World Health Organization (2010). Strengthening the Health Sector Response to Adolescent and Development. Retrieved from https://bit.ly/31daseR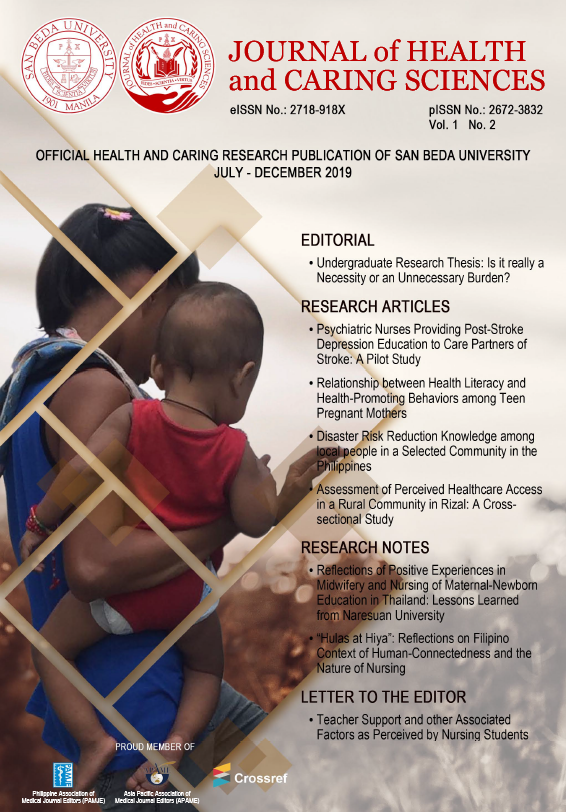 How to Cite
Barca, A. V., Bajar, R., Caniezo, A., Dizon, M. L., & Orte, C. J. (2019). Relationship between Health Literacy and Health-Promoting Behaviors among Teen Pregnant Mothers . Journal of Health and Caring Sciences, 1(2), 82-91. https://doi.org/10.37719/jhcs.2019.v1i2.oa006
Section
ORIGINAL ARTICLE(S)
Copyright (c) 2020 Journal of Health and Caring Sciences
This work is licensed under a Creative Commons Attribution-NonCommercial 4.0 International License.