Psychiatric Nurses Providing Post-Stroke Depression Education to Care Partners of Stroke: A Pilot Study
Patricia Zulim

University of Texas Southwestern Medical Center, Dallas, Texas, USA

Anjali Perera

University of Texas Southwestern Medical Center, Dallas, Texas, USA

Sonja Stutzman

University of Texas Southwestern Medical Center, Dallas, Texas, USA

Daiwai Olson

University of Texas Southwestern Medical Center, Dallas, Texas, USA
Keywords:
Care-partner, care partner depression, nursing, stroke
Abstract
Background: Stroke survivors are a higher risk for post-stroke depression (PSD) after they return home from the hospital. Given that many stroke patients have friends or family members (care partners) present after hospital discharge, this pilot study examined the utility of psychiatric nurses educating family members on how to recognize PSD.
Methods: This pilot study identified stroke patients and their care partner while they were in the hospital, to provide education on depressive symptoms, community resources, safety resources (e.g., suicide hotline), how to address symptoms of depression with their care partner. A descriptive observational design was used wherein a psychiatric delivered PSD education to the patient's care partner (instead of the patient). Knowledge of depression was assessed immediately prior to-, immediately after-, and at a 2-week follow-up after-, the education intervention.
Results: This pilot study was not powered to detect a statistically significant difference. However, among the 20 subjects (mean age 61 years), fewer scores fell in the lower range (less knowledge of depression) immediately after the education and at the 2-week follow-up phone call.
Conclusion: This study demonstrates the potential of multi-disciplinary nursing consultation to improve outcomes.
Downloads
Download data is not yet available.
References
Ayerbe, L., Ayis, S., Crichton, S. L., Rudd, A. G., & Wolfe, C. D. (2014). Explanatory factors for the increased mortality of stroke patients with depression.Neurology, 83(22), 2007-2012. doi:10.1212/WNL.0000000000001029
Benjamin, E. J., Blaha, M. J., Chiuve, S. E., Cushman, M., Das, S. R., Deo, R., . . . Muntner, P. (2017). Heart Disease and Stroke Statistics-2017 Update: A Report From the American Heart Association. Circulation, 135(10), e146-e603. doi:10.1161/cir.0000000000000485
Bennett, P. N., Wang, W., Moore, M., & Nagle, C. (2017). Care partner: A concept analysis. NursingOutlook, 65(2), 184-194. doi:10.1016/j.outlook.2016.11.005
Berg, A., Lonnqvist, J., Palomaki, H., & Kaste, M. (2009). Assessment of depression after stroke: a comparison of different screening instruments. Stroke, 40(2), 523-529. doi:10.1161/strokeaha.108.527705
Berg, A., Palomaki, H., Lonnqvist, J., Lehtihalmes, M., & Kaste, M. (2005). Depression among caregivers of stroke survivors. Stroke, 36(3), 639-643. doi:10.1161/01.STR.0000155690.04697.c0
Cai, W., Stewart, R., Mueller, C., Li, Y.-J., & Shen, W.-D. (2018). Poststroke depression and risk of stroke recurrence and mortality: protocol of a meta-analysis and systematic review. BMJ Open, 8(12), e026316-e026316. doi:10.1136/bmjopen-2018-026316
Caplan, S., & Buyske, S. (2015). Depression, Help-Seeking, and Self-Recognition of Depression among Dominican, Ecuadorian, and Colombian Immigrant Primary Care Patients in the Northeastern United States. International Journal of Environmental Research and Public Health, 12(9), 10450-10474. doi:10.3390/ijerph120910450
El Husseini, N., Goldstein, L. B., Peterson, E. D., Zhao, X., Olson, D. M., Williams, J. W., Jr., . . . Laskowitz, D. T. (2017). Depression Status Is Associated with Functional Decline Over 1-Year Following Acute Stroke. Journal of Stroke and Cerebrovascular Diseases, 26(7), 1393-1399. doi:10.1016/j.jstrokecerebrovasdis.2017.03.026
Goldstein, L. B., Adams, R., Alberts, M. J., Appel, L. J., Brass, L. M., Bushnell, C. D., . . . American Academy of, N. (2006). Primary prevention of ischemic stroke: a guideline from the American Heart Association/American Stroke Association Stroke Council: cosponsored by the Atherosclerotic Peripheral Vascular Disease Interdisciplinary Working Group; Cardiovascular Nursing Council; Clinical Cardiology Council; Nutrition, Physical Activity, and Metabolism Council; and the Quality of Care and Outcomes Research Interdisciplinary Working Group: the American Academy of Neurology affirms the value of this guideline. Stroke, 37(6), 1583-1633.doi:10.1161/01.STR.0000223048.70103.F1
Goodwin, R. D., & Devanand, D. P. (2008). Stroke, depression, and functional health outcomes among adults in the community. Journal of Geriatric Psychiatry and Neurology, 21(1), 41-46.
Kapoor, A., Lanctot, K. L., Bayley, M., Herrmann, N., Murray, B. J., & Swartz, R. H. (2019). Screening for Post-Stroke Depression and Cognitive Impairment at Baseline Predicts Long-Term Patient-Centered Outcomes After Stroke. Journal of Geriatric Psychiatry and Neurology, 32(1), 40-48. doi: 10.1177/0891988718819859
Karantzas, G. C., Davison, T. E., McCabe, M. P., Mellor, D., & Beaton, P. (2012). Measuring carers' knowledge of depression in aged care settings: The Knowledge of Late-Life Depression Scale-Revised. Journal of Affective Disorders, 138(3), 417-424.
Keller, M. B., & Shapiro, R. W. (1982). "Double depression": superimposition of acute depressive episodes on chronic depressive disorders. The American Journal of Psychiatry, 139(4), 438-442. doi:10.1176/ajp.139.4.438
Kotila, M., Numminen, H., Waltimo, O., & Kaste, M. (1998). Depression after stroke: results of the FINNSTROKE Study. Stroke, 29(2), 368-372. Retrieved from https://www.ncbi.nlm.nih.gov/pubmed/9472876
Lennon, O., Blake, C., Booth, J., Pollock, A., & Lawrence, M. (2018). Interventions for behaviour change and self-management in stroke secondary prevention: protocol for an overview of reviews. Systematic Reviews, 7(1), 231. doi:10.1186/s13643-018-0888-1
Lu, Q., Martensson, J., Zhao, Y., & Johansson, L. (2019). Living on the edge: Family caregivers' experiences of caring for post-stroke family members in China: A qualitative study. InternationalJournal of nursing studies, 94,1-8. doi:10.1016/j.ijnurstu.2019.02.016
National Stroke Association. (2018). caregivers at risk for depression. Retrieved from http://www.stroke.org/news-release/caregivers-risk-depression
Olson, D. M. (2017). Caregiver or Care-partner. Journal of Neuroscience Nursing, 49(3), 136. doi:10.1097/jnn.0000000000000288
Olson, D. M., Prvu-Bettger, J., Alexander, K. P., Kendrick, A. S., Irvine, J. R., Wing, L., . . . Graffagnino, C. (2011). The transition of Care for Acute Stroke and Myocardial Infarction Patients: From Hospitalization to Rehabilitation, Recovery, and Secondary Prevention. Evidence Report No. 202. (Prepared by the Duke Evidence-based Practice Center under Contract No. 290-2007-10066-I.) Agency for Healthcare Research and Quality AHRQ Publication No. 11(2)-E011.
Pandian, J. D., Gall, S. L., Kate, M. P., Silva, G. S., Akinyemi, R. O., Ovbiagele, B. I., . . . Thrift, A. G. (2018). Prevention of stroke: a global perspective. Lancet, 392(10154), 1269-1278. doi:10.1016/s0140-6736(18)31269-8
Pucciarelli, G., Ausili, D., Rebora, P., Arisido, M. W., Simeone, S., Alvaro, R., & Vellone, E. (2019). Formal and informal care after stroke: A longitudinal analysis of survivors' post-rehabilitation hospital discharge. Journal of Advanced Nursing.doi:10.1111/jan.13998
Thom, T., Haase, N., Rosamond, W., Howard, V. J., Rumsfeld, J., Manolio, T., . . . Stroke Statistics, S. (2006). Heart disease and stroke statistics--2006 update: a report from the American Heart Association Statistics Committee and Stroke Statistics Subcommittee.Circulation, 113(6), e85-151. doi:10.1161/CIRCULATIONAHA.105.171600
Towfighi, A., Ovbiagele, B., El Husseini, N., Hackett, M. L., Jorge, R. E., Kissela, B. M., . . . Williams, L. S. (2017). Poststroke Depression: A Scientific Statement for Healthcare Professionals From the American Heart Association/American Stroke Association. Stroke, 48(2), e30-e43. doi:10.1161/str.0000000000000113
Trotter, T. L., Denny, D. L., & Evanson, T. A. (2019). Reliability and validity of the Patient Health Questionaire-9 as a screening tool for poststroke depression. Journal of Neuroscience Nursing, 51(4), 6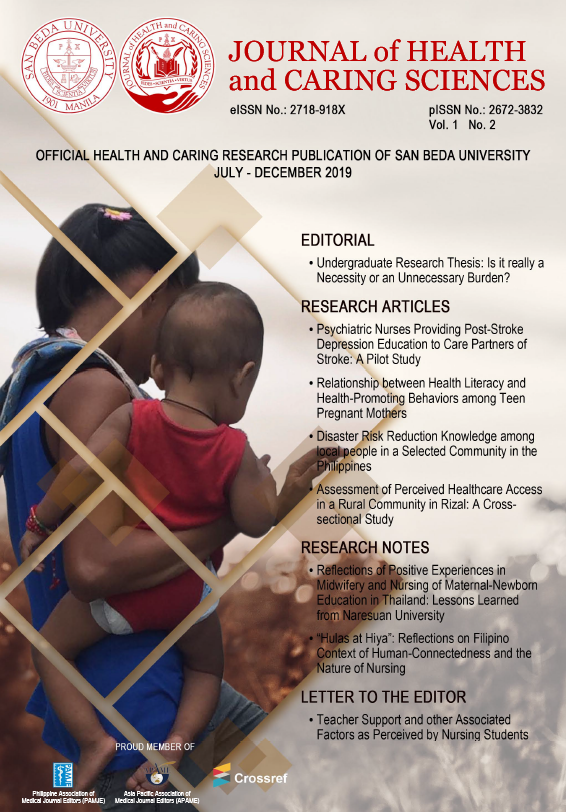 How to Cite
Zulim, P., Perera, A., Stutzman, S., & Olson, D. (2019). Psychiatric Nurses Providing Post-Stroke Depression Education to Care Partners of Stroke: A Pilot Study. Journal of Health and Caring Sciences, 1(2), 73-81. https://doi.org/10.37719/jhcs.2019.v1i2.oa005
Section
ORIGINAL ARTICLE(S)
Copyright (c) 2020 Journal of Health and Caring Sciences
This work is licensed under a Creative Commons Attribution-NonCommercial 4.0 International License.